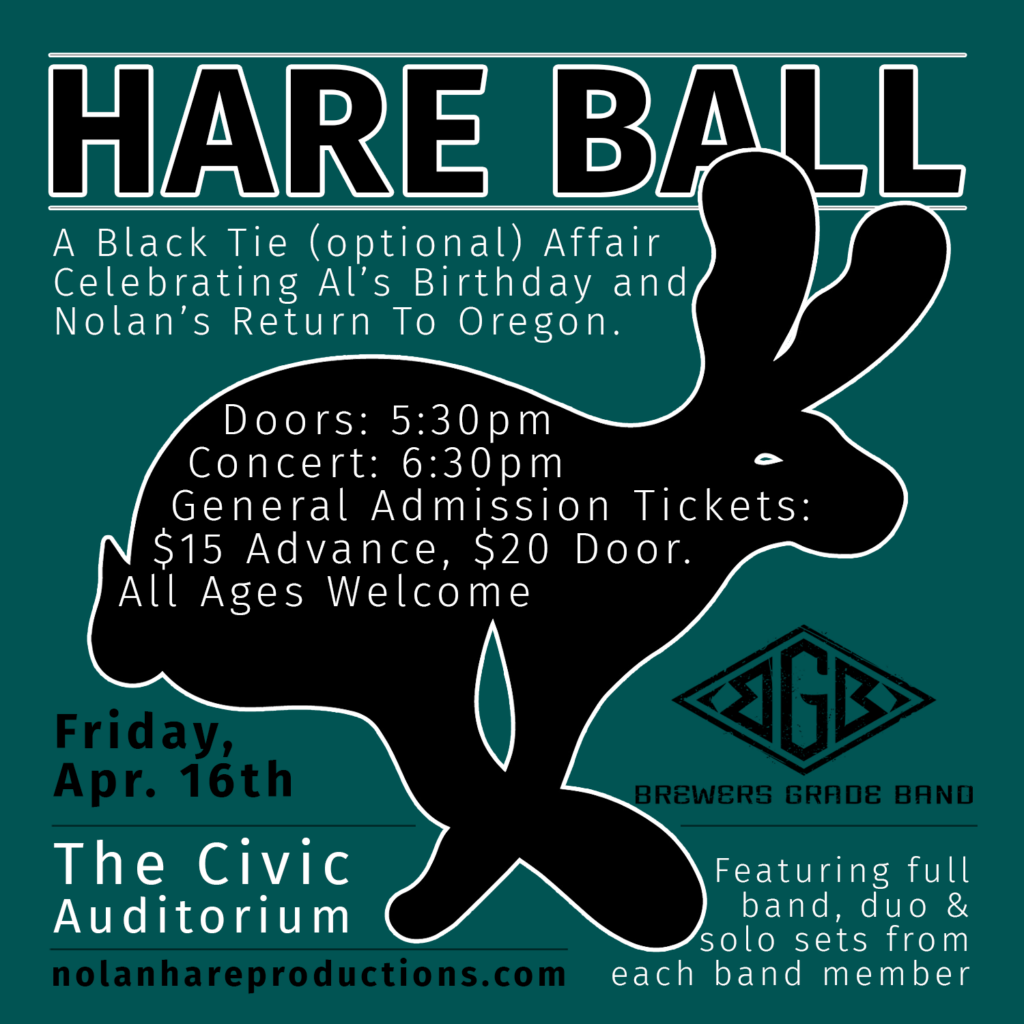 Ticket Link Coming Soon!
For everyone not attending our live stream will begin a few minutes before 6:30PM simulcasting on the following pages:
Nolan Hare Productions – Facebook Live
The Dalles Civic Auditorium – Facebook Live

Brewer's Grade Band – Facebook Live

Al & Nolan – Facebook Live
Play It Safe – Facebook Live
…and for the anti-Facebook crowd:
Livestream – Vimeo Livestream
We are accepting tips/donations via Venmo @nolanhare
Nolan Hare Productions in conjunction with The Dalles Civic Auditorium and Great Skot Productions is set to debut the "Play It Safe" Virtual Concert Series. For over a decade, local entertainers and restaurant & bar owners have worked very hard together to create a vibrant live music scene in The Dalles area. These efforts have made it possible to find Live Music in or around The Dalles 7 nights a week throughout most of the year! Recent COVID-19 public safety measures have forced the suspension of all gatherings at these venues and caused a complete disruption of our way of life.

Play It Safe will offer a continuation of your favorite weekly local entertainment professionally streamed into your home on a daily basis! The program will begin each evening at 6:00 PM with the singing of our National Anthem, followed by a performance from the evening's featured artist. It will be simulcast on various Social Media and web platforms including Nolan Hare Productions, The Dalles Civic Auditorium, Several local groups and business pages and more! We have a complete list of ways to watch on our Streaming Page. Many local and regional performers have already agreed to donate their time towards this effort, with more soon to follow suit.

The local entertainment community has been in regular contact with each other since these restrictions went into place discussing how we might help our industry as well as our surrounding community through these unprecedented times. We see this challenge as an opportunity for us to use our collective voices to, first and foremost, reach our entire community with information that will help them safely navigate through the difficult days ahead. Beyond that, we are committed to engaging our large network of fans, friends and family to aid in our efforts to support our local restaurant and bar owners through this time of restricted service and shutdowns, and to quickly revitalize our local venues once the all-clear is given for businesses to resume normal operations.

We will be collecting donations during each virtual performance raising funds dedicated to the revitalization of our local music and entertainment scene. Once normal operations are resumed we will focus our collective efforts on marketing The Dalles as the great entertainment destination that it has truly become.

If you or your business are interested in sponsoring these efforts, please contact Nolan@nolanhare.com to discuss options.

We will be taking appropriate measures to ensure the safety of everyone involved in this production, and will monitor Federal, State, County and Local guidelines as response and containment efforts for the COVID-19 outbreak continue to evolve. We take the health and safety of our community very seriously and strongly encourage everybody to closely follow the public health and safety directives that are currently in place. Together we will make it through this crisis stronger than ever before!